about – traveling in a van in the USA
There is much information about travel on the internet. But I believe there is a lesser know way to travel, for people that want to travel in the USA for very low cost. By traveling in a van or camper. And take showers at YMCAs or 24 Hour Fitness centers, that are across the USA. Other than that, hotels and hostels in the USA are crazy expensive for most travelers.
The last time I was traveling in a van I learned how to do it right, to make a comfortable living environment. I had a couple old Volkswagen vans in the past, but they are a little to small. In the photo below I am in my Astro long bed van I bought for $1,200. The extra space in a long bed really makes a big difference. But you have to be sure the van you buy is reliable.
I lived for two years in this van in San Francisco, Seattle and Austin. In the photo below I am in front of Candle Stick Park baseball stadium in San Francisco. I would usually find a good place to sleep at night, by quietly choosing a spot on a different residential street every night. There are spots around Golden Gate Park, where even some old hippies form the 60s are still around.
But the best place I ever found to park in the daytime is at Fort Mason, in the San Francisco Marina, next to Fisherman's Wharf. Parking is a nightmare in San Francisco, but this spot is a little known secret. This is in about the most beautiful area in San Francisco. But the land is owned by the military, so you can park all day for free!
Starting in the late 1970's, most of my work history has been in manufacturing. As a shop floor worker, office worker and later I spent many years developing manufacturing software. I got the idea to create the Travelers Coffee Kit while traveling in a van in the USA. I have done much traveling in my life to many countries. I have mostly lived in Chiang Mai, Thailand since 2009.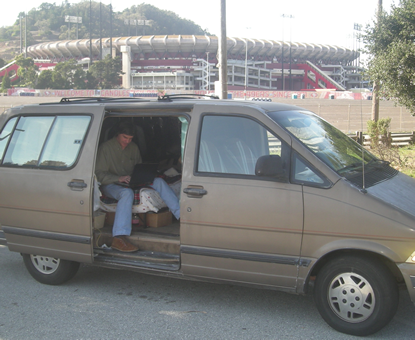 Why did I create this non-profit product?
I sometimes wonder why also.
I don't have much money or material stuff, so it is not because I am a rich person. Maybe it is because I feel like I owe a debt to society. Much of my life I lived a bad life, so it feels good if I can maybe help some other hurting human beings. But I didn't create this thinking that other people should do the same. I understand that people have children to take care of, bills to pay and their future to plan for.
Or maybe I just feel sad and ashamed of the greedy rich people that are in control of the world. Everyday the inequality gap between the super rich and starving people, all over the world gets worse. Or maybe I created this non-profit product because respect for the USA is at a all time low. and I want to show that not all people from the USA are like the greed driven politicians in the USA. If you are angry at the USA, please be patient, there are also some good people in the USA trying to change things.  A revolution in the USA is on it's way. .
What does 100% of profits to charity mean?
For a good explanation, see this page total-giving
All of our profits from this product go to Unicef: unicef.org
.